Two kittens die after being dumped in Elgin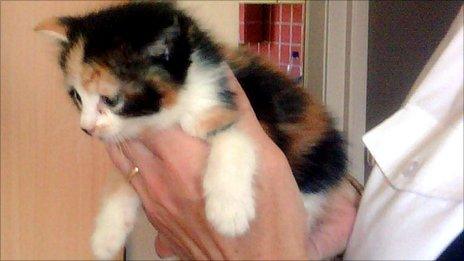 Two kittens have died while a third survived after they were dumped in a bag on the roof of a derelict building.
The Scottish SPCA described the act in Elgin, Moray, as "appallingly cruel" and that the surviving kitten was extremely lucky to be found alive.
The kittens were discovered on the roof of a disused building in Elgin Cemetery in the early hours of Sunday by passing members of the public.
The Scottish SPCA appealed for anyone with information to contact them.
The animal charity's Alison Simpson said: "Two men were walking along the town's Linkwood Road when they heard a kitten crying.
"On the roof they found a black rucksack, zipped shut, which contained three female tortoiseshell kittens, around four or five weeks old, two of which had sadly died.
"They called the police and the surviving kitten has actually been given a home by the policeman who collected her."
She explained: "We are keen to trace the person responsible for this appalling cruel act.
"A post-mortem examination will be carried out to determine how the two kittens died and if it's likely they were alive when they were dumped.
"We can be almost certain that whoever dumped them so callously wanted however many kittens were alive at the time to die and didn't want them to be found."
Related Internet Links
The BBC is not responsible for the content of external sites.