Aberdeen researchers in study to cut asthma deaths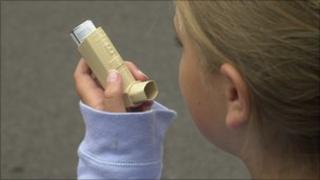 Aberdeen University researchers are to play a role in a major UK study aimed at reducing the number of preventable deaths from asthma.
Around 1,200 people die in the UK every year as a result of the condition.
All asthma-related deaths over a 12 month period, starting next year, will be analysed.
Scientists and clinicians will explore the individual circumstances and care provided before death, in order to improve future care.
Professor Jennifer Cleland and Dr Mike Thomas from Aberdeen University are part of a team led by the Royal College of Physicians (RCP) which will undertake the study.
It was commissioned by the Healthcare Quality Improvement Partnership (HQIP).
Previous research, carried out over the past 50 years, has suggested that preventable factors can be identified in up to 90% of fatal cases of asthma.
The aim of the project, the first of its kind to cover the whole of the UK, is to understand why people of all ages die from asthma so that lessons can be learnt and recommendations can be made to help prevent deaths from asthma in the future.
While data collection will not begin until next year, the partners in the study want to ensure the greatest possible awareness of the project before it begins to encourage participation and understanding.
Key themes
Professor Cleland, from the University of Aberdeen, said: "We are exploring the circumstances surrounding each asthma death over a one year period.
"We are looking not just at medical data but also involving families and communities.
"This approach will allow us to examine key themes across the deaths to see if any factors can be identified which could make asthma deaths preventable.
"The information from this project will help us plan what needs to be done by health services and people with asthma to minimise future deaths by asthma.
"This work is incredibly important to people with asthma, their families and their doctors."