Norwegian sailors rescued from life-raft off Shetland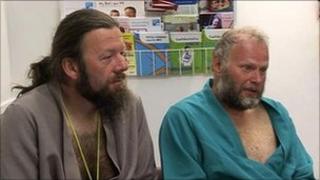 Seven Norwegian sailors have been rescued from a life-raft in the North Sea 50 miles (80km) east of Shetland.
The crew said their 40ft (12m) Viking-style wooden sailing boat, the Dragens Vinge, was swamped by a giant wave.
Owner Egil Rossavik and captain Terje Andreassen said the boat was broken up and all seven were thrown into the sea.
All were wearing survival suits and lifejackets and managed to get into the inflatable life-raft and trigger an emergency beacon at about 16:00.
They waited just over an hour until the coastguard rescue helicopter from Shetland arrived at the scene.
Slightly hypothermic
Mr Rossavik told BBC Scotland: "It was a very good mood on board. We took care of each other, spoke to each other and looked after each other."
The crew, which had been sailing from Norway to Lerwick, was winched to safety from the raft.
They were flown to hospital in Lerwick.
Shetland coastguard said there was no sign of the fishing boat.
Mark Hughes, the helicopter winchman, said: "They were in a reasonably fit state, slightly hypothermic and we just winched all seven up, one at a time, nice and slowly."
He said none of the crew was injured.
"We had about 35-40 knots of wind out there. It was quite rough."