Consultation dates for Aberdeen offshore wind farm bid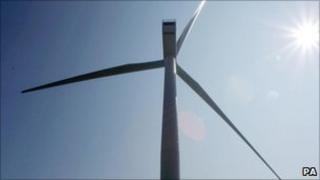 Public consultation dates for a planned wind farm project off the coast of Aberdeen have been announced.
The application for 11 turbines is being made by the Aberdeen Renewable Energy Group (AREG) in cooperation with Vattenfall and Technip.
The project is called the European Offshore Wind Deployment Centre (EOWDC).
The public consultation starts in Peterhead on 29 August, followed by Newburgh, Balmedie, Ellon and Aberdeen.
The Peterhead event is in the town's Palace Hotel, and the following four days will see the event in Newburgh's Udny Arms (30 August), Ellon's Kirk Centre (31 August), Balmedie's White Horse Inn (1 September), and Aberdeen's Double Tree Hilton at the beach on 2 September.
All the events are from 14:00 until 20:00.
David Hodkinson, UK country manager of Vattenfall, said: "The public information events for the European Offshore Wind Deployment Centre are an important part of the formal consultation and decision making process.
"I would like to encourage people to make their own judgment after viewing the information that we will present at the events and speaking to members of the project team."
It is six years since the idea of a wind farm was first mooted in the waters off Aberdeen.