Queen and David Cameron attend annual Braemar Gathering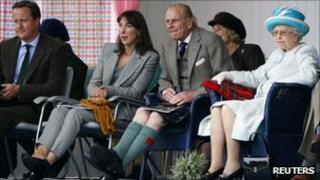 Thousands of people have been enjoying Highland dancing and pipe bands at the Braemar Highland Gathering.
The Queen and Prince Philip were among the spectators at Royal Deeside.
The Prime Minister David Cameron and his wife also attended the event which is traditionally held on the first Saturday of September.
There had been some speculation that Prince William and his wife Catherine might also be there.
The Gathering, held at The Princess Royal and Duke of Fife Memorial Park, is seen as the biggest event in the Highland Games calendar.
It has a long history and in its modern form it stretches back nearly 200 years.
Competitors take part in events including hammer throwing, caber tossing and tug-o-war.