MoD 'will assess Kinloss runway' for flying operations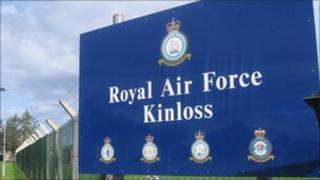 Reopening the runway at RAF Kinloss for flying operations is being considered, the Ministry of Defence has said.
The Moray site is becoming an army base under the MoD's strategic review and routine military flying ceased at the end of July.
However Kinloss remains available to handle an emergency for RAF Lossiemouth jets.
Airlines and Royal Mail aircraft unable to use Inverness Airport due to fog have been diverted to Kinloss.
The MoD said further work was now taking place to determine if there was a longer term requirement for the airfield to stay open.
A spokeswoman said that would be restricted to supporting aircraft based at RAF Lossiemouth and there was no longer an arrangement for civilian aircraft diverted from Inverness to use Kinloss, due to security changes.
The Moray Flying club and the RAF's 663 Volunteer Gliding Squadron still have permission to use the runway.
Defence Secretary Liam Fox announced in July that RAF Lossiemouth would be the only air base retained in Scotland.
RAF Kinloss was home to Nimrod surveillance aircraft before all of those stationed there were retired in 2010.