Banff brothers jailed over dog fighting case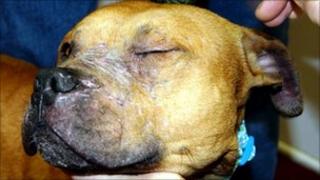 The Scottish SPCA has welcomed the jailing of two brothers for dog fighting in Aberdeenshire.
David Reid, 22, was jailed for six months and Colin Reid, 24, received four months at Banff Sheriff Court.
The brothers, who admitted charges involving bull terrier-type dogs fighting, were also banned from keeping dogs for five years.
The Scottish SPCA said the case sent a message to anyone taking part in the "abhorrent activity."
It followed an undercover operation by the animal charity.
Chief Superintendent Mike Flynn said: "Our investigation revealed both David and Colin Reid were heavily involved in dog fighting, a sickening crime which causes dogs horrendous injuries and can often be fatal.
"It is testament to our inspectors involved that these extremely cruel and barbaric men are serving jail sentences.
"This was the first conviction for animal fighting under the Animal Health and Welfare (Scotland) Act of 2006, which empowers Scottish SPCA inspectors to search and enter homes under warrants to retrieve evidence."
He added: "During raids on the Reid brothers we discovered video evidence which not only proved their guilt but also clearly demonstrated their fascination in watching the poor dogs involved viciously fight each other.
"We also removed six dogs, including three pitbull terrier-type dogs which are illegal having been classified as dangerous, veterinary equipment and various paraphernalia associated with dog fighting."
The brothers were jailed on Tuesday.