Woman back in Aberdeen home after bats forced her out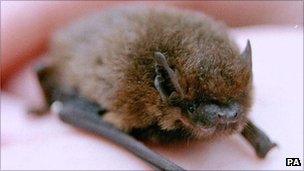 A woman who was forced out of her Aberdeen home after hundreds of bats invaded her roof has finally been able to move back in.
Alison Murray was too scared to live there and said she developed a phobia about the creatures.
They are heavily protected and for months she was unable to do anything about her unwanted pipistrelle visitors.
However, her flat has now been declared bat free.
Ms Murray told BBC Scotland: "It's brilliant to be back in the flat and being able to stay here without any visitors.
"Having 1,000 bats above your head is not the nicest thing."
Bats thrive in sheltered, warm and dry environments.