Newmill flood defence work to resume after legal battle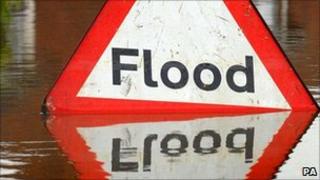 Work on flood defences in Moray is to restart after the resolution of legal issues surrounding the scheme.
The £220,000 Newmill flood scheme is designed to protect the eastern part of the village from a repeat of the torrent of water that flooded several homes in November 2009.
Moray Council said the scheme started in February and work progressed well despite difficult ground conditions.
However, problems with land access led to the suspension of work.
The council confirmed a flood protection order had been secured under new flooding legislation, allowing work to resume next week.
The scheme involves improving the drainage system to intercept water flowing down the steep hillsides and into people's homes. As well as improving drainage channels, there are several new culverts.
The water flow is diverted around the village's eastern side towards the River Isla.
A Moray Council spokesman said: "Designing a scheme to deal with flash flooding is very challenging because estimating the peak flows involves a mix of science and judgement.
"The parts of the scheme already completed worked well during the very wet weather this summer."