Sex offender Paul Firth jailed over aliases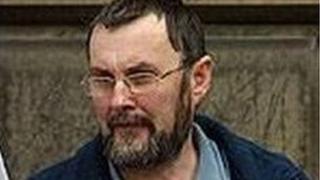 A former teacher who molested young boys for more than two decades has been jailed again for failing to tell police he was using false names.
Paul Firth, 60, was returned to prison six months after serving just over half of an eight-year prison sentence for abusing at least 13 boys.
Firth was found guilty of a breach of the Sexual Offences Act.
He used three different names while subject to the conditions of the act between 25 May and 8 July this year.
At Aberdeen Sheriff Court, evidence was led that Firth had not informed police that he wanted to use any other surnames on the correct documentation.
'Vile and reprehensible'
But defence agent Colin Wilson said he had informed social workers before being released from prison.
And he claimed his client told a police officer on the day he got out that he was considering using other names to write about church history.
He said: "There is no doubt that Mr Firth has committed a crime in the past that is vile and reprehensible. He has been fully frank about that.
"But he is not on trial for the sins of his past."
The jury of nine men and six women took just over 30 minutes to return a guilty verdict.
Sheriff Peter Hammond sentenced Firth, listed in court papers as a prisoner in Peterhead, to a year in prison.
But he told him that he would now be required to serve the rest of his original eight-year sentence, meaning he would remain behind bars until January 2014.
Extradited from Spain
Firth had been assistant head teacher at St Machar Academy in Aberdeen and a Scout group leader.
He was sentenced in 2006 after admitting 13 charges of indecency involving boys as young as eight between 1974 and 1996.
Firth had previously been jailed for three years for similar abuse.
He was originally due to stand trial in 2000 but absconded and was later extradited from Spain.
After being released from a three-year jail term imposed in 2003 for abusing boys, he was arrested on the further charges, some of which had come to light following publicity over his case.
In the second case, the court heard some of the abuse happened on camping trips and left some of his victims needing treatment for depression and psychiatric problems.