Deep concern expressed over mackerel wrangle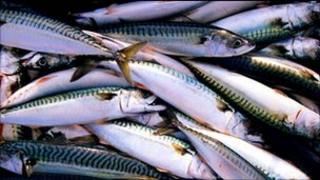 Scottish fishing leaders have expressed deep concern about the ongoing mackerel wrangle ahead of fresh talks.
Iceland and the Faroes last year announced a sizeable quota increase.
Scottish fishermen claim any move by the European Union allowing access to Scottish waters would amount to rewarding irresponsible behaviour.
Ian Gatt, chief executive of the Scottish Pelagic Fishermen's Association (SPFA), called for a fair resolution.
Speaking on the day of talks in Aberdeen with Scottish Fisheries Secretary Richard Lochhead, Mr Gatt said: "Iceland and the Faroes have massively increased their mackerel catches.
"The Scottish pelagic industry needs an agreement on mackerel, but a deal should be fair and equitable based on fishing practices undertaken over many years.
"Iceland and the Faroes must realise that they are putting the sustainability of a previously well-managed stock in grave danger."
'Negotiate reasonably'
Mr Lochhead said: "I have always been very clear that the Scottish government's main priority from the mackerel negotiations is to achieve an international agreement that will safeguard the future of the stock and therefore the viability of the industry.
"However, I have also been categorical in that we cannot do a deal at any price and the bullying tactics of Iceland and the Faroes, in setting their own huge quotas, cannot be rewarded.
"We recognise Iceland as a coastal state with a right to a share of the mackerel fishery, however they must be prepared to negotiate reasonably because a sustainable mackerel stock is in all our interests."
A new round of mackerel negotiations is due to begin on 6 December.
Time at sea
Mackerel is the most valuable stock for the Scottish fleet.
BBC Scotland told in September how patrols between Scotland and the Faroe Islands had been stepped up amid fears of illegal fishing.
Meanwhile, fishing leaders are calling for urgent clarification of European rules they fear will cut the time skippers can spend at sea.
The Scottish and UK governments say they do not understand a demand for a reduction to compensate for "overfishing".
The rules apply to any boat which catches cod.