Highlanders soldiers parade through Aberdeen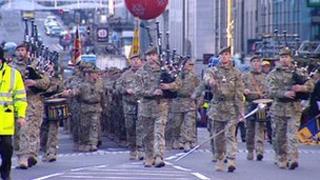 Soldiers from The Highlanders, 4th Battalion The Royal Regiment of Scotland, have paraded through Aberdeen.
Thousands of people welcomed more than 300 soldiers after their return from active duty in Afghanistan.
The parade started at 12:30 from Albyn Place and headed along Union Street to the Castlegate.
Lord Provost of Aberdeen Peter Stephen said there was a lot of pride in seeing the troops parade.
"We are delighted. A great many see The Highlanders as their local regiment," he said.
In 1994, the Gordon Highlanders regiment was amalgamated to become part of The Highlanders.
Prince Charles was the famous regiment's last colonel-in-chief.