Union Terrace Gardens referendum approved by council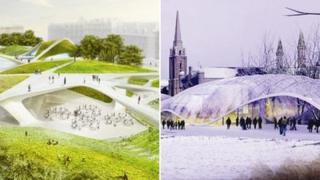 A local referendum will be held on the controversial redevelopment of Aberdeen's Union Terrace Gardens.
Two designs have gone head-to-head to compete for the high-profile £140m City Garden Project.
A meeting of the city council decided to ask if people support the project, or if they want the existing gardens to be kept.
The winning design is set to be revealed in January.
It is expected voting packs will go out in mid-February, with the ballot completed by 1 March, and the result the next day.
The two designs in the running are called Granite Web and Winter Garden.
Majority against
Businessman Sir Ian Wood has offered to pay for the referendum - up to the value of £200,000 - to be deducted from the £50m he has pledged to the project.
During a previous public consultation process, 55% of those who took part said they did not support the new development.
However, councillors backed taking the plans to the next stage.
If the project proceeds, Aberdeen City Council believes construction could be finished by 2016.