Baxters boss Audrey Baxter banned for drink-driving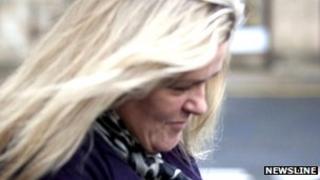 The Moray food tycoon Audrey Baxter has been fined and banned from the road after admitting drink-driving.
The 50-year-old was caught after suspicious staff at Dr Gray's Hospital in Elgin raised the alarm on Christmas Eve.
Baxter pled guilty at the town's sheriff court. She was fined £600 and banned for a year.
Baxter is chair of the Fochabers-based family business famed for its soups and preserves.
She was caught over the limit after driving her sick partner to the hospital.
Baxter parked her Range Rover in the hospital car park but blocked the ambulance bay, and police were alerted.
Fiscal depute Shona Duncan said the businesswoman had arrived at the hospital at about 21:00 on 24 December.
She said: "She was seen getting out of the driver's seat and assisting her partner into the accident and emergency department."
The court heard staff then spoke to Baxter and noticed her breath smelled of alcohol.
She was asked to remove her vehicle from the ambulance bay 45 minutes after she arrived, and was seen driving away shortly afterwards.
When police arrived at her house she told officers: "I know I shouldn't have driven. My husband is sick and I had to take him to hospital."
Considerable inconvenience
Defence lawyer Diane Turner said her client had attended a party for a short while a few hours before the incident, and then returned home to prepare food for the following day.
Her partner had been feeling unwell and was asleep. She then had two large glasses of wine while cooking.
Ms Turner said: "She went upstairs to check on her partner and she discovered he was very unwell and he did require to go to the hospital.
"She was unable to obtain a taxi and simply put him in the car. She was extremely concerned."
Baxter's partner was diagnosed with gastroenteritis and dehydration and she was told to take him home and put him to bed.
Ms Turner said her client accepted full responsibility for her actions, and apologised to the court on her behalf.
She said the loss of her driving licence would be a considerable inconvenience because she travelled extensively.
Baxter was given 14 days to make full payment.