Architect outlines Aberdeen City Garden Project vision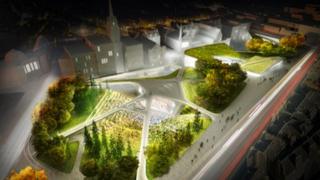 The architect behind plans to transform Aberdeen's Union Terrace Gardens has been outlining his vision to city councillors.
A design called Granite Web was chosen for the City Garden Project.
New York-based Charles Renfro said the city has a heart without a pulse and promised his design would deliver a park like nowhere else.
Members of the public are being asked if they support the project or want the existing gardens kept.
The referendum ballot closes on 1 March.
Councillors agreed a number of steps to allow officials to progress the project if the referendum says yes.
Jobs prediction
A total of £300,000 towards legal costs has also been agreed.
Campaigners opposed to the redevelopment held a demonstration before the meeting.
A report from consultants PwC into the plans for Union Terrace Gardens says it could inject £122m into the local economy annually and create about 6,500 new jobs.
Businessman Sir Ian Wood has pledged £50m to the project.
During a previous public consultation process, 55% of those who took part said they did not support the new development.
But councillors backed taking the plans to the next stage.
If the project proceeds, Aberdeen City Council believes construction could be finished by 2016.