Taxi driver tells Aberdeen court of group attack on man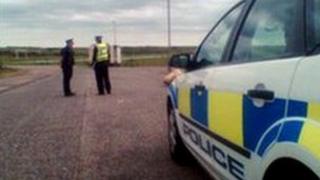 A taxi driver has told a murder trial how he watched a group of people attack a man they believed was a paedophile.
Gordon Morrice, 57, died several months after being attacked at playing fields in Aberdeen's Golf Road in 2010.
Robert Laird, 25; Paul Yates, 38; Williamina Stewart, 37; Hector Stewart, 30; and Paul Noble, 17, deny murder.
The High Court in Aberdeen heard taxi driver Kevin Lamb told police in a statement that a man had said the man was a paedophile.
Mr Lamb, 42, told the court he took a photograph of the attack on his mobile phone.
He told how he saw the man walking across the field minutes before a black Subaru car pulled up.
His police statement was read to the court by advocate depute David Nicolson.
It described two men and a woman involved in an initial attack on the man.
It read: "The old man didn't do anything. He fell to the ground after several punches. I could see the punches connecting with his face.
"When he fell to the ground the two men started stamping on his head and body. The old man didn't do anything - just took it.
"At this point I was thinking 'this is bloody ridiculous' because there are three of them beating into this guy.
"I thought 'why am I doing nothing about it?'. I took a photo."
'Threw punches'
He went on: "The old man managed to sit up on the grass. The girl went over to him, bent over him and started punching him on the face with both hands, one after the other.
"He lay down on the grass then and the girl then kicked him on the body."
Mr Lamb said the group walked away and a teenager on a bike approached the man and "threw a couple of punches".
The taxi driver said the man started to walk towards his cab with a bloody mouth and told him - "you're a witness".
The statement added: "A guy with ginger hair said - 'he's a paedophile'."
Mr Morrice died almost nine months after the incident.
The trial, before Lord Uist, continues.