Gordon Morrice murder trial: Brain injury evidence given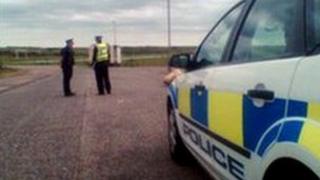 The brain of a suspected paedophile allegedly murdered by five people showed signs of a head injury suffered months before his death, a doctor has told a murder trial.
Gordon Morrice, 57, died several months after being severely injured at playing fields in Aberdeen's Golf Road in 2010.
Robert Laird, 25; Paul Yates, 38; Williamina Stewart, 37; Hector Stewart, 30; and Paul Noble, 17, deny murder.
Dr James MacKenzie said he had found "softening" on Mr Morrice's brain.
The consultant neuropathologist, who examined Mr Morrice's brain after his death, told the trial at the High Court in Aberdeen he had examined the brain microscopically with the naked eye and found the damage was mainly on the left side.
He said there was evidence to suggest Mr Morrice had suffered a head injury although the major damage had been caused by subsequent bleeding.
In his visual exam he detected "softening" on parts of the brain, which he said could appear "boggy".
"The brain deals with damage in one way," he said. "It walls it off, takes it away and you are left with softening.
"Many months have elapsed between the incident that caused it and the death of the deceased."
He added: "What I'm looking at is the remains on the battle field long after the battle is over."
The doctor said Mr Morrice's memory, movements, speech and swallowing would all have been affected.
He said: "The distribution and severity of the brain damage is likely to have rendered the deceased severely neurologically disabled."
'Spontaneous haemorrhage'
Advocate depute David Nicolson told the witness the court had heard that Mr Morrice regained some of his speech in the months after the attack.
Dr MacKenzie replied: "What often happens is there is some degree of functional recovery after time goes by, but there are bits you can't put back together."
The court heard Mr Morrice had been prescribed Warfarin - a blood thinning drug - before the alleged attack and did not lose consciousness until several hours afterwards.
Dr MacKenzie said Mr Morrice may have appeared to function normally after the alleged incident until the build up of a clot started to damage the brain.
He added that this was consistent with someone who may have a "slow bleed" on the brain.
He told the court that a "spontaneous haemorrhage" can occur in a person who is taking Warfarin.
Paul Noble's defence counsel, Edward Targowski QC, asked Dr MacKenzie: "If it can occur relatively spontaneously, then little force would be required to cause a haemorrhage of a patient who is on Warfarin?
The witness replied: "Yes, there is an increased risk of haemorrhage inside the head."
Background checks
The five accused are alleged to have attacked Mr Morrice at a park in Seaton on 24 June 2010.
They are alleged to have struck him on the body with a bicycle and repeatedly punched and stamped on his head and body at Golf Road and the adjoining park.
The attack is alleged to have caused the death of Mr Morrice on 14 March last year at an Aberdeen nursing home.
Williamina and Hector Stewart are also accused of previously showing malice and ill-will towards Mr Morrice.
The trial has heard several witnesses claim that rumours of Mr Morrice being a paedophile had circulated the Seaton community before the alleged attack.
Pc William Thom, of Grampian Police, previously said he ran background checks on Mr Morrice following a report that he had asked to bounce on a trampoline with two children, but they had come back clear.
The trial, before Lord Uist, continues.