Gordon Morrice trial: Teenager and mother admit killing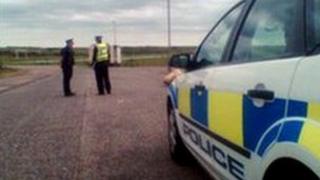 A schoolboy and a mother are facing jail after admitting killing a man wrongly accused of being a paedophile.
Gordon Morrice, 57, died months after being severely injured at playing fields in Aberdeen's Golf Road in 2010.
The attack happened after he asked to bounce on a child's trampoline near his flat in the city.
Five people went on trial for murder at the High Court in Aberdeen, but Paul Noble, 17, and Williamina Stewart, 37, have admitted culpable homicide.
After the incident with the trampoline in June 2010 rumours began to circulate around the Seaton area of Aberdeen that Mr Morrice was a paedophile.
He was beaten up the following day and taken to hospital with serious head injuries. Mr Morrice died in a city nursing home on 14 March last year.
'Distressing' case
During the trial, PC William Thom, of Grampian Police, said he had run checks on Mr Morrice after he was reported to police over the trampoline incident but his checks returned clear and he was escorted home.
Noble, of Aberdeen, and Williamina Stewart, of Blackburn, in Aberdeenshire, admitted killing Mr Morrice. Noble was just 15 at the time of the attack.
Stewart's partner Paul Yates, 38, and her brother Hector Stewart, 30, of Aberdeen, admitted a reduced charge of assault.
The case against co-accused Robert Laird, 25, was dropped due to a lack of evidence.
Lord Uist described the case as "distressing" as he thanked the jury for their time.
Noble's lawyer asked the judge to continue bail for his client so that he could continue studying for his Higher exams.
However, Lord Uist remanded him in custody until sentence for background reports.
Sentence on all four was deferred until later this month.