Tesco used student image on clothes 'without permission'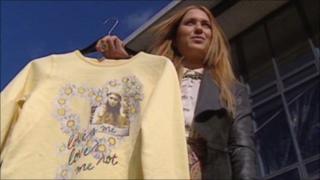 An Aberdeenshire student has said she was shocked to find her image on children's clothing being sold by Tesco.
Nicola Kirkbride said she had not given permission to the supermarket for the picture - which was displayed on her fashion blog - to be used.
The Robert Gordon University fashion management student said it took her by surprise.
Tesco said the top had been taken off sale pending an investigation.
Ms Kirkbride told BBC Scotland: "I would have thought that they would have known a bit better as such a big corporate company to get in contact if they wanted to use my art work, but we'll see what they say, what they come back with."