Aberdeen Airport plans £100m redevelopment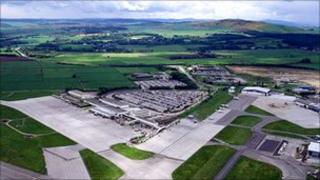 Plans to carry out a £100m redevelopment of Aberdeen Airport over the next 30 years have been unveiled.
The airport'sdraft master plan includes a major refurbishment of the terminal buildingand space for further runway expansion.
The blueprint, which will now go out for consultation, also sets a target of raising passenger numbers by 40% by 2040.
It estimates the development could create about 1,100 jobs.
Aberdeen was said to have been the UK's fastest growing airport last year, with forecasts produced by BAA predicting a growing demand in the long-term for air services to and from the city.
BAA estimated passenger numbers at the airport would reach four million by 2020 and more than five million by 2040.
The draft master plan sets out how Aberdeen Airport will develop to meet that future demand, and compete more effectively against UK and European rivals.
Derek Provan, managing director of Aberdeen Airport, said: "The aviation industry has changed a great deal since the first Aberdeen Airport Master Plan was published in 2006, a time of unprecedented growth in the aviation industry.
"It was followed by the worst downturn in aviation history, a worldwide slump in demand and the loss of dozens of UK and European airlines, including flyglobespan and Aberdeen-based City Star Airlines.
"Given the extent of the downturn, and the impact on air passenger demand across the world, it is only sensible that we take stock and refresh our long-term forecasts to reflect the changed business landscape. This draft master contains a series of revised forecasts for growth, which we believe are realistic, sustainable and achievable."
Local residents, businesses and politicians will have a chance to air their views on the future development of the airport during a 12-week public consultation.
Mr Provan added: "We recognise that we can only grow with the support and trust of our neighbours. We are determined to grow Aberdeen Airport in a responsible and sustainable manner, and we will be consulting widely on our plans to ensure that all sections of the community have an opportunity to share their views."
Business use
Bob Collier, chief executive for Aberdeen and Grampian Chamber of Commerce, said the proposals in the draft master plan illustrated "the depth of Aberdeen Airport's commitment to the north east of Scotland".
He added: "The region has already been the beneficiary of a multi-million pounds investment in its infrastructure which has considerably improved the standard of service for passengers travelling to this world as well as opening up opportunities for new routes. These ambitious proposals take the potential for the region to the next level."
Aberdeen Airport handled 3.1 million passengers, more than 97,000 passenger flights and about 6,200 tonnes of freight in 2011.
The airport has about 20 airlines flying to some 40 destinations, with a high percentage of business use.