Michael Ross loses appeal over Shamsuddin Mahmood murder on Orkney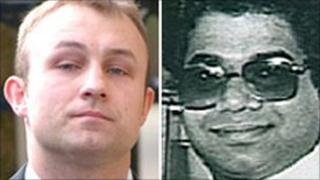 A man jailed for the murder of a waiter on Orkney has lost his appeal against the conviction.
Former Black Watch sniper Michael Ross was 15 when Shamsuddin Mahmood, 26, was shot in the head in Kirkwall's Mumataz Restaurant in June 1994.
Ross was sentenced to a minimum of 25 years after being found guilty in 2008.
The 33-year-old's appeal was rejected by the Court of Criminal Appeal in Edinburgh. The case could go to the Supreme Court in London.
Mr Mahmood, born in Bangladesh, was shot in full view of a room full of diners, including families with children, by a masked gunman.
Ross had claimed that police interviews were unfair.
However judges ruled that the appeal was refused.