Shetland fisherman Neil Smith Fatal Accident Inquiry 'unlikely to explain death'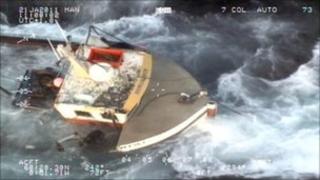 A Fatal Accident Inquiry into the death of a fisherman off Shetland is unlikely to fully explain why he died, a court has heard.
Neil Smith, 54, the lone skipper and owner of the creel boat Bread Winner, died in January last year.
He was dragged overboard and drowned in an outing five miles (8km) east of Score Head, Bressay.
Mr Smith's body was recovered eight days later entangled in a string of creels.
The FAI into the Cunningsburgh man's death was at Lerwick Sheriff Court.
The inquiry heard that the fisherman was laying creels from his boat when he got his right leg trapped in rope.
He was dragged overboard and drowned.
One week
Mr Smith was described as a normally very safe worker and there was speculation that either illness or a gear failure may have contributed to his death.
However, it was acknowledged by procurator fiscal Duncan Mackenzie that a full explanation may never be known.
The inquiry was heard by Sheriff Philip Mann who told Mr Smith's family he planned to have his written determination ready within a week.