Trump says Scotland is committing 'financial suicide' on wind power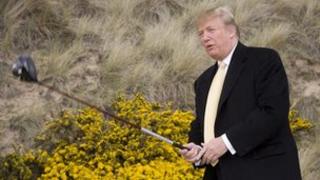 US tycoon Donald Trump has said Scotland is committing "financial suicide" by wanting to create a "wind farm landscape".
In a submission to a Scottish Parliament committee, he said the policy would end tourism and result in Scotland going broke.
Mr Trump is opposing plans to build an offshore wind farm near his £1bn golf resort in Aberdeenshire.
The entrepreneur is appearing before Holyrood's economy committee next week.
The Scottish government said evidence of jobs growth in the renewables sector and continued expansion of tourism contradicted Mr Trump's claims.
Mr Trump made his submission to MSPs in advance of his appearance at the committee, which is holding an inquiry into renewable energy targets.
He wrote: "Does (tourism agency) visitscotland or anyone else for that matter honestly believe that a 'wind farm landscape' will stimulate tourism?
"The answer, in fact, is that it will completely end tourism in Scotland.
"Ireland and other countries competing for revenue from tourists are thrilled - Scotland is, in effect, committing financial suicide."
Mr Trump went on to say that wind turbines were inefficient, adding: "Your pristine countryside and coastlines will forever be destroyed and Scotland will go broke."
The wind farm which is planned close to Mr Trump's golf resort at Menie, is a £150m venture by Vattenfall, Technip and Aberdeen Renewable Energy Group, which would see 11 turbines erected.
Tourism 'increase'
Scottish ministers previously approved the golf resort, and, at the same time, are also embarking on a drive to make Scotland the green energy capital of Europe.
Mr Trump, who is appearing before MSPs on 25 April, wrote: "I would respectfully urge the committee to recognise the seriousness of the situation and to advise the Scottish government not to destroy Scotland with these horrendous, costly and highly inefficient industrial turbines.
"Your current political leaders, specifically those who have responsibility for its energy policy, must understand that in the business of high-value tourism, a tarnished asset is impossible to replace."
Mr Trump has previously accused Scottish First Minister Alex Salmond of being "hell bent on destroying Scotland's coastline".
A Scottish government spokesman, said: "Tourism continues to grow, with overnight visitors to Scotland up by 9% in 2011, and the number of visitors from North America coming to enjoy Scotland's stunning landscapes up by 15% in 2011 on the previous year.
"Scotland has massive green energy potential - including a quarter of Europe's tidal and offshore wind potential - which is creating thousands of much-needed jobs in Scotland and guaranteeing a secure energy supply for the future."
The spokesman added that wind farms would only be built in areas where their impact was deemed acceptable.