Black fish firm Shetland Catch left 'out of pocket'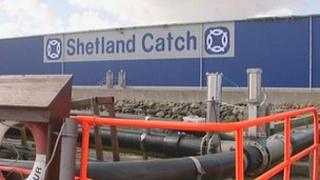 A Shetland company at the heart of a major "black fish" scam has claimed participation left them millions of pounds out of pocket.
Shetland Catch Ltd has admitted illegal landings of fish valued at tens of millions of pounds passed through the processing plant in Lerwick.
A confiscation hearing at the High Court in Edinburgh is expected to continue for several days.
Defence QC David Burns said the firm had already paid a heavy price.
Shetland Catch cannot be fined until the question of compensation has been decided.
Judge Lord Turnbull was told that Shetland Catch was resisting an attempt by the Crown to confiscate £6m.
Mr Burns agreed that scheme had earned the firm more than £6m but insisted that was not the whole story.
He said that Shetland Catch had paid tax on illegal earnings.
The fish processing firm also claims that after the scam was uncovered, quotas were cut in following years, putting it into the red.
Biggest fraud
Annual profits exceeding £3m were turned into losses of more than £2m as a result.
A report by Shetland Catch's accountants concluded: "A quota claw-back had a direct and initially catastrophic effect."
The total, it was claimed, amounted to almost £11m.
Mr Burns said the court should also take into account the thousands lost when Shetland Catch was shut down for three days during the investigation and the costs of re-structuring the company because of losses.
In February, 17 Scottish skippers and a processing firm received fines totalling almost £1m for their part in what was the UK's biggest fraud involving illegal catches of fish.