Camilla, Duchess of Rothesay, sees teaching at University of Aberdeen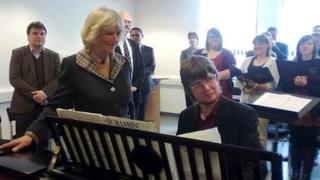 Camilla, Duchess of Rothesay, has visited the University of Aberdeen to see teachers being trained.
The university aims to ensure new teachers have a greater understanding of the educational and social problems that can affect children learning.
The Duchess met composer Prof Paul Mealor, whose music was performed at last year's royal wedding.
She also met music student Paul Murray who has overcome major brain surgery and multiple sclerosis.