Total's Elgin platform: Gas leak tests show 'no contamination'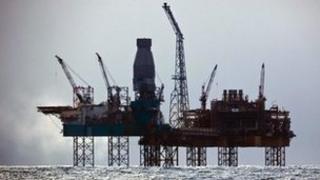 Chemical testing of samples from near the North Sea platform leaking gas indicate "no direct marine contamination", the Scottish government has said.
Total's Elgin platform was evacuated after gas started leaking on 25 March.
Scottish Environment Secretary Richard Lochhead said tests had been carried out on water and sediment samples gathered two miles from the platform.
Earlier taste tests on fish showed they were "untainted".
Mr Lochhead said: "I'm pleased that chemical analysis of water and sediment samples is now available, which adds to the sensory fish testing work completed last week.
"All data gathered to date continues to demonstrate that the effects on the marine environment of the Elgin gas leak are so far minimal.
"However, as the leak is ongoing, we must remain vigilant and I've asked Marine Scotland to continue to play a full part in assessing the situation, including further environmental monitoring."
Chemical analysis of the fish is ongoing, with full results expected next week.
Meanwhile, Total has said drilling has begun on a relief well, which forms part of the operation to stop the gas leak.