Nat Fraser trial: Accused 'joked' over wife Arlene's disappearance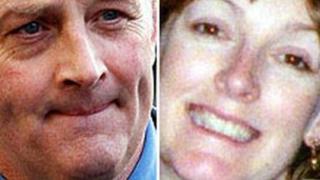 The trial of a Moray man accused of murdering his wife more than a decade ago has heard he joked about her disappearance.
Arlene Fraser, 33, vanished from her home in Elgin in April 1998.
Her mother told the High Court in Edinburgh that days after she went missing, Nat Fraser put on a fake moustache and said it was the disguise Arlene had used to get away.
Mr Fraser, 53, denies killing his wife and has lodged two special defences.
Giving evidence for a second day, Isabelle Thompson told the murder trial about the events after her daughter vanished 14 years ago.
The 66-year-old said fruit and vegetable wholesaler Mr Fraser did not seem to be concerned about his wife.
The court heard that members of Mrs Fraser's family went to Elgin after she was reported missing, searching her home in Smith Street for clues to her whereabouts.
They were joined from time to time by Mr Fraser.
Mrs Thompson said: "We were sitting at night and there was a toy moustache one of the children had.
"He put it on and said: 'This was the disguise Arlene used for getting away.'
"I felt it was terrible that he could joke about anything like that. He didn't seem to be upset about anything."
Mrs Thompson also described a TV press conference when relatives appealed for information, and Nat Fraser had to read words from a piece of paper.
"I didn't think he was very enthusiastic to find out anything about Arlene," she added.
Asked by advocate depute Alex Prentice QC, prosecuting, about her impression of Mr Fraser, Mrs Thompson replied: "He didn't seem that bothered one way or another."
The trial heard how Mrs Thompson confronted her son-in-law over her daughter's disappearance.
"I asked him if he had done anything to Arlene and he said: 'What would be the point of that?'
"I said: 'You would have your house, your business and your freedom' and he said: 'I wouldn't have Arlene.'
"I said: 'You wouldn't have Arlene anyway. She was divorcing you'."
Rings shelf
The trial heard that a search of the Smith Street address revealed Mrs Fraser had not taken her sunglasses, contact lenses, store cards, passport or bank book.
The jury were shown photos of the bathroom and a small wooden shelf beside the mirror over the wash-hand basin.
Mrs Thompson said she thought it might have been used to put rings on.
In court she identified Mrs Fraser's eternity ring, diamond and gold wedding ring and sapphire and diamond engagement ring.
She said had not seen the rings in the Smith Street house in the early days following her daughter's disappearance, and that, had she done so, she would have handed them over to police.
Mrs Thompson agreed with Mr Prentice that she later learned the rings had "appeared" at the house.
Earlier the court heard about problems in the couple's marriage.
Mrs Thompson said Mr Fraser had moved out of the family home earlier in 1998.
She said her daughter had been convinced her husband was hiding sums of money in the house, although she had never found any of it.
Phone call
The indictment alleges Mr Fraser knew his wife wanted a divorce and had gone to a solicitor to see about getting a financial settlement.
Mr Fraser has lodged special defences of alibi and incrimination.
His alibi defence describes how Mr Fraser left the address where he was staying in Burnside Road, Lhanbryde, at about 07:30 on 28 April and spent the day making deliveries to shops, hotels and restaurants in the area, pausing just after 09:00 to make a half-hour phone call.
He names Hector Dick, of Mosstowie, Elgin, as the possible murderer.
As defence QC John Scott began his questioning of Mrs Thompson, the court heard that there had been an earlier trial in 2003 when Mr Dick had been one of three men accused of murdering Arlene, but had left the dock and given evidence for the prosecution.
The court was told another man on trial then, Glenn Lucas, is now dead.
Mr Fraser denies murdering his wife between 28 April and 7 May 1998.
The trial, before judge Lord Bracadale, continues.