Nat Fraser trial: Arlene 'was due to see lawyer about divorce'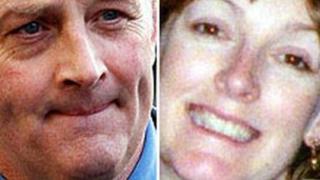 The trial of a Moray man accused of murdering his wife more than a decade ago has heard she was due to see her solicitor about divorcing him on the day she disappeared.
Arlene Fraser, 33, vanished from her home in Elgin in April 1998.
Patricia Gauld said her friend Mrs Fraser had told her about the appointment with her lawyer the night before she went missing.
Nat Fraser, 53, denies killing his wife and has lodged two special defences.
Mrs Gauld said she had gone to collect her children from the Fraser home in Elgin the evening before her friend disappeared.
She told the trial that she knew the Frasers' 11-year marriage was going through a rocky patch.
Mystery disappearance
Mrs Gauld said Mrs Fraser had told her that she had an appointment to see a solicitor about her divorce the following day.
"She said that she was going to file for divorce. All she wanted out of the marriage was the house and the custody of the children," said Mrs Gauld.
The court also heard from several witnesses who said they were unable to make contact with Mrs Fraser on that day.
Irene Higgins, 50, said Mrs Fraser had asked her to look after her children that day because she had an appointment with a solicitor that afternoon.
But Mrs Higgins said she "was starting to wonder" where Mrs Fraser had got to when she did not appear later that day to collect her children.
She said her husband phoned Mrs Fraser's house to see if she was there, and later contacted the police.
The witness said Nat Fraser turned up at her house at about 21:30 that night and "appeared concerned, wondering what had happened to her".
The witness told police that she "detected a mixture of annoyance and embarrassment" from Fraser over the situation his wife had left them both in.
'Kept phoning'
Margaret Boyce, 68, a typist at New Elgin primary school in 1998, said she had received a call from Mrs Fraser that Tuesday.
Mrs Fraser's son was on a field trip and she had wanted to know when he would be back.
Mrs Boyce said she took up to 10 minutes to find out the information, then tried to phone her back, but got no reply.
"All through the day I kept phoning, about every 15 minutes," she said.
She said she was "concerned" because Mrs Fraser would not know what time her son would be home.
Mrs Boyce said she eventually contacted Mr Fraser, who "said something like, 'Oh, she must be up the town'."
It is alleged that Mr Fraser strangled or murdered his wife "by other means to the prosecutor unknown" between 28 April and 7 May 1998.
The trial, before judge Lord Bracadale, continues.