Tullos Hill cull: 22 roe deer killed in Aberdeen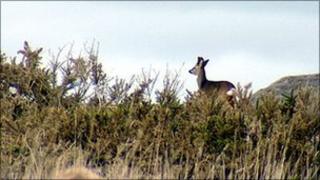 More than 20 roe deer have been killed as part of a controversial cull in Aberdeen.
The animals have been killed at Tullos Hill in order to protect about 80,000 new trees being planted.
A freedom of information request by BBC Scotland revealed 22 roe deer had been killed.
Aberdeen City Council has said the cull was vital to preserve the area, but the charity Animal Concern said it could not be justified.
Before the cull there were estimated to be about 30 deer on the hill, and the local authority said it had a statutory requirement to manage them.
John Robins, of Animal Concern, told BBC Scotland: "Aberdeen City Council has not carried out a cull, they have carried out a massacre.
"That's not managing the deer, that's wiping them out."
Campaigners said earlier in this week they had written to the Queen about the issue.