Nat Fraser trial: Accused 'confessed hitman murdered Arlene'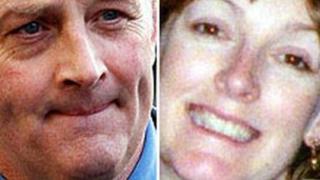 A husband confessed to hiring a hitman to strangle his wife, then burned her body and ground down her teeth, a trial has heard.
Arlene Fraser, 33, disappeared from her home in Elgin, Moray, in 1998. Nat Fraser, 53, denies killing his wife.
Witness Hector Dick alleged Mr Fraser boasted he had made fools of the police.
Mr Dick, giving evidence for a second day at the High Court in Edinburgh, said: "He said she was dead."
He told how Mr Fraser joked about the incident becoming a double murder when someone came into the house.
Then Mr Fraser was alleged to have added he was grateful "none of the kids came home or they would have got it too."
Mr Dick told advocate depute Alex Prentice QC: "His favourite topic was that she would never be found. He said that the body had been burned and there would be no DNA or anything like that."
Special defences
Mr Dick continued: "His comment to me was that he had had help. His initial comment was that he had got help from somewhere down south but he had not trusted him."
Mr Fraser claims farmer Mr Dick, 56, could have been behind Mrs Fraser's disappearance.
The trial also heard Mr Dick sold his story to a tabloid newspaper in 2003.
Under cross examination QC John Scott asked the witness how often he had lied about his involvement in Mrs''s Fraser disappearance.
The farmer admitted he had lied on numerous occasions but said he began telling the truth about what he knew in 2003.
It is alleged that Mr Fraser strangled or murdered his wife "by other means to the prosecutor unknown" between 28 April and 7 May 1998.
Mr Fraser has lodged special defences of alibi and incrimination.
Phone call
The alibi describes how Mr Fraser left the address where he was staying in Burnside Road, Lhanbryde, on 28 April at about 07:30 and spent the day making deliveries to shops, hotels and restaurants in the area, pausing just after 09:00 to make a half-hour phone call.
The court has heard there was an earlier trial in 2003 during which Mr Dick had originally been one of three men accused of murdering Mrs Fraser.
But he left the dock and gave evidence for the prosecution.
Another man on trial at the time, Glenn Lucas, is now dead.
The trial, before judge Lord Bracadale, continues.