Scottish women sign up for Fishwives Choir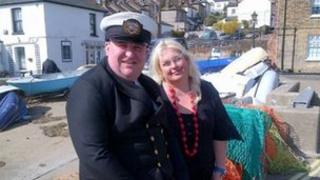 A handful of Scottish woman have signed up to be part of a choir inspired by the success of the Military Wives.
Jane Dolby from Leigh-on-Sea in Essex has created the Fishwives Choir.
She is recruiting members from across the country and hopes to record a charity single in aid of the Fishermen's Mission, which supports the families of those lost at sea.
Several Scots wives have already agreed to get on song and lend their vocal talents to the project.
Helen Christie from Lossiemouth was married to husband Graeme for just eight days before he died at sea.
She said she wanted to get involved with the choir because of the "incredible" support she had from the mission.
"When we went to meet the boat it was endless cups of tea and coffee, bacon rolls. They looked after us. They coordinated everything," she said.
"They told us when the boat was coming in. They coordinated things with the police so that I knew when to go and speak to them. They were just amazing."
Fellow chorister Fiona Jane Brown, from Peterhead, has studied the history of singing in fishing communities and saw the Fishwives Choir as an opportunity to get involved herself.
She told BBC Scotland: "This is a wonderful chance to recreate the fisher choirs of the past because that has happened, on behalf of the Fishermen's Mission, up here in the north east quite often.
"I thought I wanted to have a shot."
Mrs Dolby, whose trawlerman husband Colin died at sea when his boat was caught in a storm in 2008, plans to email vocal parts to the women involved to allow them to practice. They will then come together to record the single.
She said: "We have got to decide on a song then I have got this fantastic choir master that I met who is going to help me with all the vocal arrangements.
"It is going to be a bit of a balancing act logistically but it is definitely doable, and definitely worth doing."
The efforts of the fishwives have been welcomed by the Fishermen's Mission
Supt Murray Campbell from the Peterhead mission said it was "marvellous" that people who had been through so much in their lives wanted to "give so much back".
The Fishwives Choir has its own Facebook page and Twitter feed and is seeking to recruit more members.