Nat Fraser trial: Witness Hector Dick admits lying to police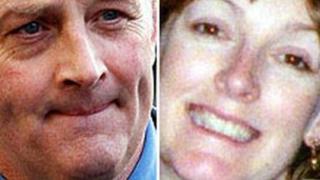 A witness in the trial of a Moray man accused of murdering his wife 14 years ago has admitted lying to police.
Arlene Fraser vanished from her Elgin home in 1998. Hector Dick was giving evidence for a third day at the trial of Nat Fraser who denies killing her.
The High Court in Edinburgh heard Mr Dick spoke to officers shortly after Mrs Fraser disappeared and said he had no idea what happened to her.
Under cross examination he accepted that was a lie.
Jurors heard that in a statement to police Mr Dick, 56, said: "I have no idea what happened to Arlene or where she may be. I have no thoughts on the matter."
Defence counsel John Scott QC, who read the statement to the jury, put it to Mr Dick: "That, you accept, is a lie?"
The witness replied: "Yes."
Beige car
In his evidence last week, Mr Dick told the court that, prior to Mrs Fraser's disappearance, Nat Fraser had asked him to source a cheap car, which he did.
The court also heard that, in his statement given to police shortly after Mrs Fraser went missing, Mr Dick denied buying a car on behalf of anyone else.
The witness agreed with Mr Scott that he had lied to officers.
The jury heard that Mr Dick also told police, among other things, that he could not recall Mr Fraser being at his house the day before Mrs Fraser vanished, that he had not stored a beige Ford Fiesta on his land and that he had no further information about Mrs Fraser's disappearance.
"You said all of that. Almost every word a lie," Mr Scott stated, during cross-examination.
"Yes," replied Mr Dick.
The trial has also been hearing about a note scribbled by Mr Dick and handed over to detectives in June 1998.
It provided a detailed account of what the farmer had done on the day Mrs Fraser went missing two months earlier.
It said that just after 09:00 Mr Dick had tea in the bothy at Wester Hillside Farm near Elgin. Other entries talked of cleaning skips, checking livestock and making phone calls.
Special defences
On Friday Mr Dick told the trial how Mr Fraser - once a good friend and best man at his wedding - "confessed" that he had hired a hitman to strangle his wife.
Mr Fraser, 53, denies all the charges against him.
It is alleged that he strangled or murdered his wife "by other means to the prosecutor unknown" between 28 April and 7 May 1998.
He has lodged special defences of alibi and incrimination.
The alibi describes how Mr Fraser left the address where he was staying in Burnside Road, Lhanbryde, on 28 April at about 07:30 and spent the day making deliveries to shops, hotels and restaurants in the area, pausing just after 09:00 to make a half-hour phone call.
Mr Fraser also alleges that if his wife was murdered, as prosecutors claim, the man responsible could be Hector Dick.
The court has heard there was an earlier trial in 2003 during which Mr Dick had originally been one of three men accused of murdering Mrs Fraser.
But he left the dock and gave evidence for the prosecution.
Another man on trial at the time, Glenn Lucas, is now dead.
The trial, before judge Lord Bracadale, continues.