Nat Fraser trial: Court told of Hector Dick farm search claim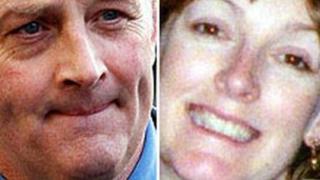 The Arlene Fraser murder trial has heard claims a witness misled police by saying he had searched his land for Mrs Fraser's body.
Mrs Fraser vanished from her Elgin home in 1998. Farmer Hector Dick was giving evidence at the trial of her husband Nat Fraser, who denies killing her.
At the High Court in Edinburgh, Mr Dick said he did not search the whole farm.
Previously Mr Dick has claimed Mr Fraser confessed to him he had hired a hitman and burned the body.
The court heard that in a statement to police in October 1999, Mr Dick said: "We were all worried that she would turn up dead locally. I had searched my own land."
Defence QC John Scott pointed out that the statement was made more than a year after Mr Fraser's supposed confession to Mr Dick.
"You had been told by Nat Fraser what had happened to his wife, so there would be no point in looking for her," he said.
Mr Dick replied: "I never searched the whole farm."
Mr Scott continued: "You were searching for something which, if you have told the truth, you couldn't possibly find and you say you didn't search the whole farm, suggesting you searched part of it."
Police were also trying to trace a beige Ford Fiesta - which officers believed could be the key to the case.
Mr Dick told the police in the statement: "I do not know where Arlene Fraser is and I do not know where the car is."
Secret recording
The farmer has now told the trial that he bought the Fiesta, on Mr Fraser's instructions, and later burned, and crushed the vehicle before taking it to a local scrap yard in May 1998.
He also said Mr Fraser - a former friend and best man at his wedding - had attempted to go back on his "confession" of July 1998.
Mr Dick said he had asked him about Mrs Fraser and the car.
He said: "Nat would never answer my questions. By the end of the summer he was pretending what he had said to me was jokes and by the end of the year he was denying he had said anything to me."
The court earlier heard how officers seeking the car arranged a secret recording of Mr Dick.
They fitted second-hand car dealer Kevin Ritchie, who sold the car to farmer Mr Dick, with a wire.
'Disparaging comments'
Mr Scott quizzed Mr Dick about a 55-page transcript of the conversation which followed in January 1999.
During the chat, Mr Dick told Mr Ritchie to say nothing to police about the car, saying that he would deny everything himself and say he could not remember.
Asked if that was what he was doing in court to avoid telling the truth, Mr Dick said it was not.
The jury also heard Mr Dick had made a string of disparaging comments about Mrs Fraser and her family after she went missing.
Mr Fraser, 53, denies all the charges against him.
It is alleged that he strangled or murdered his wife "by other means to the prosecutor unknown" between 28 April and 7 May 1998.
He has lodged special defences of alibi and incrimination.
Mr Fraser also alleges that if his wife was murdered, as prosecutors claim, the man responsible could be Mr Dick.
The court has heard of an earlier trial in 2003 when Mr Dick had been one of three men accused of murder, but had left the dock and given evidence for the prosecution.
The trial, before judge Lord Bracadale, continues.