Nat Fraser trial: Arlene hitman allegation 'a lie'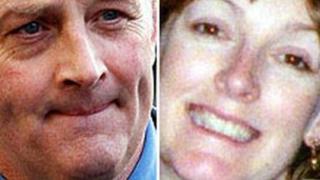 A witness at the Arlene Fraser murder trial has been accused of lying over claims her husband confessed to hiring a hitman.
Mrs Fraser vanished from her Elgin home in 1998. Hector Dick was giving evidence at the trial of her husband Nat Fraser, who denies killing her.
At the High Court in Edinburgh, Mr Dick has claimed during evidence that Mr Fraser told him he had hired a hitman.
But Mr Dick said to police that Mr Fraser had told him nothing.
Mr Fraser, 53, denies acting with others to murder his wife and says that if the alleged offence was committed, it could have been carried out by Mr Dick.
The trial heard that Mr Dick, a farmer from Mosstowie near Elgin, had been speaking to officers while they were driving him away from a court case in October 1999.
Mr Dick told the officers: "As regards Nat Fraser, although he has never told be what he has done, my opinion is that he was involved in his wife's disappearance."
Last week Mr Dick - now spending a fifth day in the witness box - told the trial that in the weeks after Mrs Fraser vanished, Mr Fraser confessed to hiring a hitman, then burning his wife's body and scattering her ashes.
"Nat told me various stories. I couldn't make up my mind which was right and which was wrong," said Mr Dick today.
But he accepted police had noted down his words in October 1999.
Defence QC John Scott said: "In evidence you have told us he (Mr Fraser) confided in you, told you full details of what he has done to his wife."
Evidence questioned
If what Mr Dick told police years ago was true, continued Mr Scott: "What you have told us in evidence is a lie."
Mr Dick told the lawyer: "I have explained it. I never understood what was right and what was wrong with regard to stories."
Mr Scott suggested the right thing to have done would have been to tell police everything.
The defence lawyer also quizzed Mr Dick on a letter from October 1999 where he offered to co-operate with police in return for bail and dropping of charges relating to a car being sought in the investigation into Mrs Fraser's disappearance.
Mr Scott questioned why there was no offer to tell prosecutors about what Mr Fraser was supposed to have said before Mrs Fraser's disappearance.
"You decided the best way to get you out was to get him in - stick Nat Fraser in," said Mr Scott. "No," Mr Dick told him.
Later the court heard how Mr Dick tried and failed to hang himself in his cell in June 2001, after being accused of killing Mrs Fraser.
Special defences
"You would die with the world thinking Hector Dick had lied about the car," said Mr Scott.
"Then he got detained for the murder and the next day he hangs himself.
"You can understand why some people might look at that and think it was a sign of a guilty conscience."
Mr Dick acknowledged: "It was pointed out to me."
Mr Fraser, 53, denies all the charges against him.
It is alleged that he strangled or murdered his wife "by other means to the prosecutor unknown" between 28 April and 7 May 1998.
He has lodged special defences of alibi and incrimination.
Mr Fraser also alleges that if his wife was murdered, as prosecutors claim, the man responsible could be Mr Dick.
The court has heard of an earlier trial in 2003 when Mr Dick had been one of three men accused of murder, but had left the dock and given evidence for the prosecution.
The trial, before judge Lord Bracadale, continues.