Thousands attend Speyside whisky festival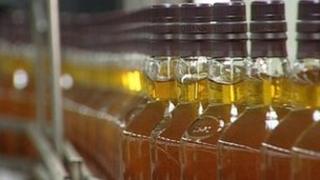 The chairman of the Spirit of Speyside Whisky Festival has said the annual event has become a "keystone" of the area's tourist trade.
Jim Royan said the 13th festival, which runs until Monday, has attracted thousands of visitors.
It comes despite fears that uncertainty over the future of the area's defence bases was hurting the local economy.
Events in the festival include tastings, tours, masterclasses and concerts.
Mr Royan said: "It started from a group of enthusiasts and now has become a major business.
"Particularly now for Moray, we came through a particularly traumatic year last year with the effects of the defence spending review.
"But we actually got ourselves out of that bit of a trough and part of the currency of Moray and the Moray coast and Speyside is actually the tourist offering."