Nat Fraser trial: Witness denies evidence was 'invented'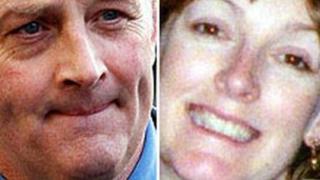 A witness at the trial of a man accused of murdering his wife 14 years ago has been challenged to explain differences between his current evidence and statements he made nine years ago.
Hector Dick rejected claims that some of his evidence had been "invented".
Mr Dick, 56, has been giving evidence at the trial of his former friend Nat Fraser.
Mr Fraser is accused of acting with others to murder his wife Arlene, a charge he denies.
The businessman, who is 53, claims that if his estranged wife was killed, Mr Dick could be to blame.
Mrs Fraser was 33 when she disappeared from her home in New Elgin, Moray, on 28 April 1998.
The court has heard that in 2003, Mr Dick, a farmer from Mosstowie in Elgin, stood trial with two others for the murder.
Several days into the case he gave a "lengthy" statement to prosecutors. The charges against him were then dropped and he went on to give evidence against the others at the trial.
Hitman
Defence QC John Scott today compared Mr Dick's evidence in the current trial with his words in the statement given in 2003.
Mr Dick was questioned on apparent differences in the length of time he said he was outside Arlene's house the week before she disappeared, the amount of money he paid for a car he said Mr Fraser had asked him to buy and the date on which he claimed to have taken the car to a scrap yard.
Mr Scott also referred to a conversation Mr Dick said he had with Mr Fraser two days before his wife vanished, in which Mr Fraser was said to have mentioned a hitman.
The lawyer put it to Mr Dick that he had "simply invented that discussion".
The witness replied: "Not correct."
Mr Scott also referred the witness to evidence he had given, in which he claimed that Mr Fraser said "horrible things" about Arlene's parents, and asked why it had not featured in his 2003 statement.
Mr Dick denied that he invented the alleged comments, saying: "It was a vivid memory, I'll never forget it."
The trial, before judge Lord Bracadale, continues.