Total Elgin gas leak: Permits granted for 'dynamic mud kill'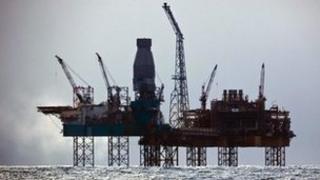 Environmental permits for a "dynamic kill" operation to try to stop the gas leak on Total's Elgin platform have been granted by the UK government.
Experts believe pumping heavy drilling mud into the North Sea well from where the gas is escaping is the fastest way to halt the release.
The Department of Energy and Climate Change (DECC) has carried out a full environmental assessment of the plan.
The platform was evacuated when the gas began leaking on 25 March.
The Health and Safety Executive has also given the dynamic kill operation the go ahead.
A spokesman for DECC said the operation was a major step forward for Total and the quickest way to stop the leak.
Work is also under way in parallel to drill a relief well as an alternative solution.