Nat Fraser trial: Hector Dick denies chance of finding body was 50-50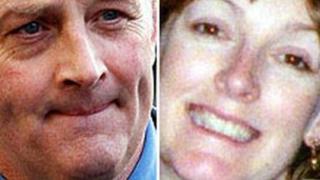 A witness in the trial of a man accused of murdering his wife has denied telling police they had a 50-50 chance of recovering the body.
Hector Dick has been giving evidence in the trial of Nat Fraser, 53, who denies murdering wife Arlene.
Mr Fraser claims that if his estranged wife was killed, Mr Dick could be to blame.
Mrs Fraser was 33 when she disappeared from her home in New Elgin, Moray, on 28 April 1998.
The High Court in Edinburgh has been hearing how police questioned Mr Dick, 56, at length and on a number of occasions.
It was claimed that during one interview Mr Dick told the officers they had a 70% chance of finding a car they believed had been used to abduct Mrs Fraser.
He was also supposed to have said there was a 50% chance of finding the body.
Mr Dick stood trial in January 2003, but was cleared of involvement in Mrs Fraser's murder and went on to give evidence against her husband.
For a second time he told a jury how fruit and vegetable salesman Mr Fraser confessed to hiring a hit man to strangle his wife, then cleared up himself and burned her body, scattering the ashes and ground up teeth.
No chance
Mr Fraser has lodged papers in court claiming Mr Dick is the true culprit and defence QC John Scott has quizzed the pig farmer about the "percentages" he is supposed to have given police.
Mr Scott told the trial that if Mr Dick's story of the body burning were true the police would have no chance of finding Mrs Fraser.
On his seventh day in the witness box, Mr Dick faced further questions from advocate depute Alex Prentice QC, prosecuting.
The prosecutor showed Mr Dick a transcript of his first appearance before a sheriff when he was accused of being part of a conspiracy to murder Mrs Fraser.
Mr Dick - who agreed he had made inconsistent statements - told the sheriff he had given police information which he thought might give them a 50% chance of recovering a body.
"I don't know what the outcome of that investigation was," he added.
'Potential issue'
Mr Prentice said there had been talk of a document in which there were percentages quoted.
"Is there such a document?" asked Mr Prentice. "No," Mr Dick told him.
Throughout his evidence he has denied giving police percentages.
The jury has not been in court since Friday.
Lord Bracadale told them: "A potential issue was raised in relation to one of your number. Having taken time to investigate that matter, I am satisfied there is no difficulty."
The trial continues.