Efforts to clear freight train derailed on Aberdeen line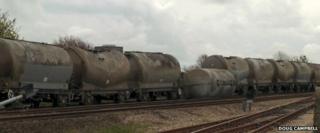 Heavy lifting cranes are being brought in to clear a freight train which came off the line in the north east of Scotland.
Train services have been severely disrupted after the accident two miles south of Aberdeen on Wednesday evening.
The train was crossing from a freight route to the main line when it derailed.
Network Rail apologised for the disruption and said cranes were due on site later.
Buses are replacing trains between Stonehaven and Aberdeen causing delays on all services.
A ScotRail spokesman said: "Due to freight train derailment between Aberdeen and Stonehaven southbound services extended by up to an hour. Northbound by about 30 minutes."
The Rail Accident Investigation Branch has been informed and is to investigate the incident.
A spokesman for Transport Scotland said: "Members of the public are urged to check ScotRail's website for the latest information on disruption before travelling."