Nat Fraser trial: Hector Dick 'was not on farm' when Arlene disappeared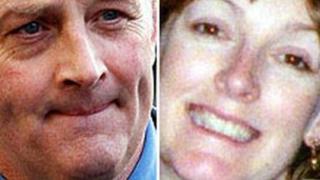 A witness in the trial of a man accused of murdering his wife was not on his farm at the time she disappeared, police were told.
Hector Dick has given evidence in the trial of Nat Fraser, 53, who denies murdering wife Arlene.
Mr Fraser claims if his estranged wife was killed, Mr Dick could be to blame.
The High Court in Edinburgh heard Mr Dick's older brother, James, told officers: "I cannot remember seeing Hector at all that morning."
Mrs Fraser was 33 when she disappeared from her home in New Elgin, Moray, on 28 April 1998.
Mr Fraser's defence QC, John Scott, showed the witness a statement he made just days after Mrs Fraser vanished.
Mr Dick explained that after that early statement he discussed events with his brother and farm worker Ian Gordon. He also looked at telephone records to jog his memory.
Mr Scott produced another statement from December 1998 in which James Dick told police: "I think Ian and Hector cleaned out the skip in the afternoon."
'Some difference'
Mr Dick told the court that he spoke to the pig farmer that morning and saw him cleaning out a skip which had been used for fish waste.
Mr Scott said: "I am not suggesting, Mr Dick, that you are making things up. But, do you see there appears to be some difference between what you said to police in two statements in 1998 and what you said in evidence today?"
Mr Dick accepted his memory would have been better 14 years ago but insisted the skip had been cleaned in the morning.
The police statements had been "careless" he suggested.
"I was just telling them as best I could," he added.
Mr Dick denied that he had "colluded" with his brother and told advocate depute Alex Prentice QC, prosecuting, that he would not lie for him in court.
It is alleged Mr Fraser strangled his wife or murdered her "by other means to the prosecutor unknown".
Divorce meeting
The court also heard evidence from a solicitor working in Elgin who had dealings with Mrs Fraser before she went missing.
Loanne Lennon, 40, who is now living in Texas said Mrs Fraser had a meeting scheduled with her on the day Mrs Fraser disappeared from her home in Elgin.
Mrs Lennon said the meeting was to discuss arrangements for ending her marriage to Mr Fraser, but it never took place.
The trial heard that Mrs Fraser believed her husband was bugging her telephone calls.
According to the solicitor's notes, Mr Fraser offered his wife £30,000 to go away, but he later threatened to leave her with no money at all.
Mrs Lennon said Mrs Fraser had to apply for benefits.
The court heard that Mrs Fraser was primarily concerned with what would happen to her children in the event of a divorce.
Mrs Lennon said: "She was taking the view that she was a mother and I don't think there was any doubt in her mind that the children would be living with her."
Mr Fraser was concerned with getting the family's Ford Granada car, Mrs Lennon said.
Mrs Lennon said: "I formed the impression that the car was really wanted - full stop."
The trial continues.