Nat Fraser trial: Arlene's rings 'found days after she vanished'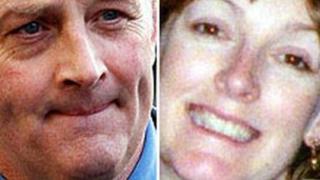 The rings of a woman allegedly murdered by her husband were found in her home days after she disappeared, a trial has heard.
Nat Fraser, 53, denies murdering his wife Arlene.
Mrs Fraser was 33 when she disappeared from her home in New Elgin, Moray, on 28 April 1998.
Her stepmother Catherine McInnes told the High Court in Edinburgh she could not understand how the rings appeared when they had not been there before.
Mrs McInnes, 75, said she had "taken over the housework" in Mrs Fraser's home.
Mrs McInnes was shown video footage taken by police the day after she vanished. It showed there were no rings on a dowel rod under a soap dish at the wash-hand basin.
Advocate depute Alex Prentice QC, prosecuting, asked Mrs McInnes if she would have seen the rings while cleaning.
"Yes, they would have been obvious," she said.
Mrs McInnes said she had also helped search the home Mrs Fraser's passport, medication or other clues which might help.
The rings would have been a significant find, she told Mr Prentice.
The prosecutor asked her if anything had happened on 7 May 1998 - several days after the disappearance.
Mrs McInnes said: "I went into the bathroom to use the toilet and, of course, washed my hands afterwards and I noticed jewellery on the dowel - three rings."
In court she was shown a gold eternity ring, diamond and gold wedding ring and a saphire engagement ring. She confirmed they had belonged to her stepdaughter.
"I removed them from the dowel," said Mrs McInnes.
"I just couldn't understand where they had come from. They definitely weren't there before."
Husband upstairs
She said the rings were put back on the dowel to await the daily visit from the police.
She told the trial that Mr Fraser had been in the house, upstairs, at the time.
Mr Fraser denies he strangled his wife or murdered her "by other means to the prosecutor unknown".
Mr Fraser claims if his estranged wife was killed, another man - Hector Dick - could be to blame.
The trial continues.