Flight suspension continues after North Sea helicopter ditched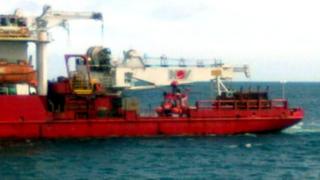 The operators of a helicopter which ditched in the North Sea have announced they will continue their suspension of flights involving the same type of aircraft for safety reasons.
The crew of the Bond Super Puma carried out a "controlled ditching" off Aberdeen on Thursday afternoon, when an oil pressure warning light came on.
All 14 on board escaped serious injury.
A diving support vessel returned the EC 225 Super Puma to shore at Peterhead on Friday.
An investigation is under way.
Air Accidents Investigation Branch and Eurocopter officials are due to examine the Super Puma over the weekend.
In a statement Bond Offshore Helicopters Ltd said it would continue the suspension of flights while it undertakes "a detailed root cause investigation".
It added: "The investigation is centred on the activation of the oil pressure warning light that instigated the controlled landing on water of a Eurocopter EC225.
"Bond Offshore Helicopters Ltd is committed to the safe operation of the company's entire fleet including the EC225 and for that reason flights can only recommence once they have completed a detailed analysis of the incident."
The helicopter was heading from Aberdeen to the Maersk Resilient and Ensco 102 drilling rigs - in the Jasmine field, operated by ConocoPhillips - when an alert was broadcast.
Nine of those on board the helicopter were flown to Aberdeen Royal Infirmary. One was kept in for observation as a precaution.
The remaining five were brought to Aberdeen by lifeboat.
Offshore unions have called for a helicopter safety group to be urgently reconvened.
A task force was set up in the wake of the 2009 Super Puma tragedy in which 16 men died.