Serco deal for Northern Isles ferry contract postponed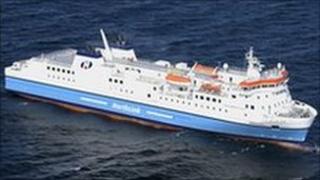 A deal which would see Serco take over the running of the lifeline ferry services that link Shetland and Orkney to the mainland has been put on hold.
The Scottish government said it had to postpone plans to sign a six-year contract with the firm after one of the other bidders mounted a legal challenge.
Streamline said it had a stronger case for running the route.
Serco was announced as the preferred bidder earlier this month.
The ferry is one of the main modes of transport for people in the Northern Isles. The contract to operate the service is worth £243m.
A spokeswoman for the Scottish government said: "We can confirm a legal challenge has been lodged and ministers cannot enter into a contract until this has been resolved by the courts.
"We cannot comment further at this time.
"All parties involved hope to see a speedy conclusion and we will work closely with our partners to ensure the lifeline services continue to serve the communities of Orkney and Shetland."
The maritime union Nautilus International has raised concerns about the announcement of Serco as preferred bidder.
Earlier this week the union, which represents 23,000 maritime workers, called for urgent meetings on the future of the routes.