Nat Fraser trial: Children would 'soon forget' mother Arlene claim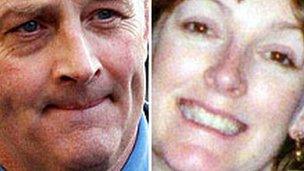 A man accused of murdering his wife said their children would soon forget her as relatives waited for news about her disappearance, a trial has heard.
Nat Fraser, 53, denies murdering his wife Arlene.
Mrs Fraser was 33 when she disappeared from her home in New Elgin, Moray, on 28 April 1998.
Her father, Hector McInnes, told the High Court in Edinburgh Mr Fraser said: "The bairns will soon forget their mother".
Mr McInnes, 71, was recalling a conversation from 14 years ago.
Defence QC John Scott agreed it was an inappropriate remark, but said Mr Fraser had a knack of saying the wrong thing at the wrong time.
Mr McInnes arrived in New Elgin on Thursday 30 April after driving up from his then home in Lancashire.
The retired aircraft fitter said that when he saw Mr Fraser that day he was "just the usual, calm, collected, not fussed".
The trial also heard from a former forensic scientist who examined Arlene's home following her disappearance.
Neville Trower said he was looking for blood or signs of disturbance at the Smith Street property - but there were none.
He described the house as "very clean".
He added: "This was probably extraordinary in the history of crime scenes I have examined."
Advocate depute Alex Prentice QC, prosecuting, suggested: "Despite what we may see on CSI, it is not every crime that leaves a footprint?"
Mr Trower agreed. He also told the trial that he wanted to use a chemical that would show up tiny traces of blood, even if someone had attempted to wash them away.
But first the house would have to be in complete darkness and there was not enough heavy duty black polythene in the police station for a blackout, he said.
He told the court that in 1998, when the investigation into Mrs Fraser's disappearance began, her children - Jamie, 10, and Natalie, 5 - were still living in the house.
Mr Trower said that at the time, there was thought to be a cancer risk from the blood-revealing chemical, so there were health and safety considerations.
The tests were finally carried out on 11 May, 1998 when everyone had left.
Mr Trower said that in December that year, he also visited Wester Hillside Farm at Mosstowie, near Elgin, because pig farmer Hector Dick, now 56, was suspected of conspiring with Mr Fraser to murder Arlene.
Muck and animal droppings in an outhouse were examined without result.
The trial heard that blood was found on a Nissan Bluebird - but it turned out to be deer's blood.
Also giving evidence was trained searcher, PC Peter Hall.
He said he went to the Fraser house on the evening of April 28, as soon as Arlene was reported missing by a neighbour.
He said he met with her husband Mr Fraser that evening, who told him there were two stashes of money in the house, one behind an air vent in Arlene's bedroom and another in a locked gun cabinet in the loft.
He said: "I assumed he was suggesting she had taken it to go away."
PC Hall said he had searched for the cash but found nothing.
He also helped search the house the following day and told the trial that Arlene's rings were not in the bathroom.
"Would you have regarded the presence of such rings as significant in this inquiry," asked Mr Prentice.
"Yes," PC Hall told him and said he was in no doubt that the rings were not there.
They were found more than a week later on 7 May.
Mr Fraser denies he strangled his wife or murdered her "by other means to the prosecutor unknown".
Mr Fraser claims if his estranged wife was killed, another man - Hector Dick - could be to blame.
Related Internet Links
The BBC is not responsible for the content of external sites.