Bond set to resume flying on Wednesday after North Sea Super Puma ditching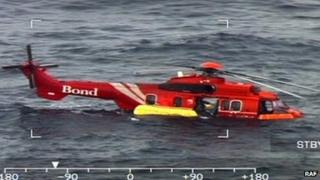 Bond is to resume helicopter flights which had been suspended after one of its aircraft ditched in the North Sea last week.
Flights were grounded following the incident involving a Super Puma. All 14 passengers and crew were rescued.
Bond said its full fleet of 10 helicopters would return to service over the next 24 hours.
The company said it had completed a rigorous engineering analysis and safety risk assessment.
It had also received assurances from Eurocopter, the gearbox manufacturer.
The ditched helicopter had been involved in another incident just three weeks earlier.
Bond insisted the incident was not connected to the gearbox failure that affected the same helicopter on 10 May.
Replacement engine
BBC Scotland revealed on Monday night that one of the two engines on the EC225 model suffered a malfunction on its approach to Aberdeen Airport on 19 April.
The company said the aircraft had been returning from the BP Harding Field in the North Sea.
Bond said the helicopter landed safely and no-one was injured.
"The Turbomeca engine was returned to the manufacturer Turbomeca for an engine strip-down to determine the nature of the problem," said the company.
"The helicopter was returned to service with a replacement engine."
Grounding call
Air accident investigators have found a cracked shaft in the main gearbox of the aircraft that ditched last Thursday.
Bond suspended all flights of EC225 Super Pumas following the incident. On Monday, it also grounded its AS332L2 helicopters.
Helicopter manufacturer Eurocopter said initial investigations had indicated suspending flights was not necessary.
However, the Unite union called on North Sea helicopter operators Bristow and CHC to follow Bond's lead and ground their Super Puma helicopters.
Regional officer John Taylor said: "We cannot gamble with people's lives while questions remain unanswered."