Nat Fraser trial: Accused 'faked emotion' over wife's disappearance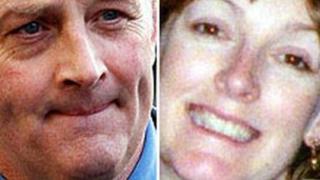 Murder accused Nat Fraser put on a show of false emotion when asked if his missing wife Arlene might have killed herself, it has been claimed in court.
Former Det Insp William Robertson told the High Court in Edinburgh there had been "no anxiety or worry" coming from Mr Fraser.
And he claimed Mr Fraser's "numbness" and unwillingness to help the police search had been unique in his career.
Mr Fraser, 53, denies murdering his wife, whose body has never been found.
The trial has heard that the Fraser's 11-year marriage was crumbling and they were living apart when Arlene, 33, vanished from her home in Smith Street, New Elgin on 28 April 1998.
Mr Robertson said he had gone to the house in Lhanbryde where Mr Fraser was staying at 03:00 the next morning.
Mr Fraser, who was described as being dishevelled and grubby, answered the door, putting his finger to his lips to signal that Mr Robertson and his police colleague should not wake the household.
Mr Robertson said Mr Fraser had been "very, very nervous."
The retired detective said: "He couldn't speak to us. His mouth was very dry and it was as if his tongue was stuck to the roof of his mouth.
"He was trying to get the words out but he couldn't.
"After a few more minutes he became a bit more calm and was able to speak."
He said Mr Fraser showed concern for his wife "to a point" and told the officers about her medical condition, Crohn's disease, which meant she needed regular medication.
He was "happy enough" that his son and daughter were staying with neighbours, Mr Robertson said, and added: "He wasn't overly concerned about the kids."
Then Mr Robertson said he had asked Mr Fraser if there was a chance Arlene had committed suicide.
He recalled: "A tear came to his eye. I remember him saying 'I don't want to think about that'. He said it but I didn't get the feeling he meant it.
"There was no distress. There was no anxiety or sign of worry coming from him."
Mr Robertson told the trial that in most missing person inquiries relatives were desperate to help police, suggesting lines of inquiry and anxious for news.
Wedding rings
He said he had dealt with missing person searches almost daily but the Arlene Fraser search was "unique".
Mr Robertson said: "I had never encountered such inaction, numbness, before in my police career."
Earlier, another retired police officer told the trial he saw Arlene Fraser's wedding rings on the day she vanished.
Neil Lynch, 59, said he saw them in the bathroom of her home in Elgin shortly after she was reported missing in April 1998.
However, they were not there when a video was taken by police the next day.
Other witnesses have told the trial that the rings reappeared in the bathroom nine days after Mrs Fraser disappeared.
Fruit and vegetable wholesaler Mr Fraser, 53, denies murdering mum-of-two Arlene 14 years ago, claiming he has an alibi and a likely killer is local farmer Hector Dick.