Shetland decommissioning facility given funding boost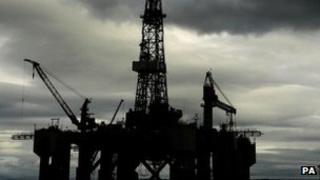 The Scottish government has unveiled a £10m funding package for a planned oil platform decommissioning facility in Shetland.
It is hoped the new deepwater quay at Dales Voe will create about 150 jobs in Shetland and Aberdeen.
The announcement follows a meeting in Oslo between the first minister and the Norwegian firm behind the project.
The government's funding offer is subject to the plans being given the green light to proceed.
Lerwick Port Authority signed an agreement with Norwegian firm AF Group's UK subsidiary in 2010 to develop the project, which aims to establish a "centre of decommissioning excellence" at Dales Voe.
The facility will incorporate a 24-metre deep quay and oil rig decommissioning yard, and will provide a scale of capacity and environmental standard which its backers say is currently unmatched in the UK.
First Minister Alex Salmond met senior executives of AF Group and Lerwick Port Authority as part of his official visit to Norway earlier this week.
'Extensive experience'
Mr Salmond has now said the Scottish government and Highlands and Islands Enterprise would each make up to £5m available to support the project.
He said: "Decommissioning is an increasingly important activity for companies in Scotland, Norway and elsewhere.
"I'm determined that the Scottish government and our enterprise agencies will do everything we can to support the continued success of the industry in Scotland - to create jobs, promote economic activity in the oil and gas supply chain and encourage skills development and wider opportunities in communities such as Shetland.
"Lerwick has already established itself as one of the main deep-water harbours in the northern North Sea, with extensive experience in the offshore oil and gas and decommissioning sectors."
Sandra Laurenson, chief executive of Lerwick Port Authority, added: "The planned significant investment in new port infrastructure allows us to look forward to the next phase of Lerwick's capability in meeting the needs of the oil and gas industry for many years to come."
A steady stream of offshore installations in the North Sea are approaching the end of their design life, and demand for onshore demolition facilities is growing.
The Scottish government has said the total market value of decommissioning over the next 30 to 40 years is estimated to be just over £30bn.