Arlene Fraser case: A wave - then a 14-year mystery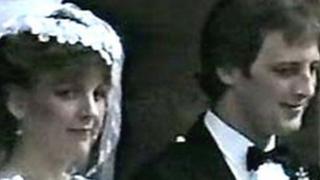 In a scene replicated in countless homes every day of the week around the world, a mother waved her children off to school.
There was one difference.
Arlene Fraser would never be seen again by those who loved her.
Fourteen years ago - on 28 April, 1998 - the 33-year-old said goodbye to her two, then, young children, Jamie and Natalie, as they headed off to primary school in Elgin, Moray.
Over the next 14 years, the case of her disappearance continued to capture the public imagination as relatives and police sought the truth.
Her family and friends were adamant Arlene would not simply abandon her children.
She had met her husband-to-be Nat Fraser in 1985.
They got engaged in September 1986 and married on 9 May, 1987.
After her disappearance 11 years later, her husband took part in an appeal at a press conference.
Mr Fraser said: "Arlene if you are watching this, please get in touch just to let us know you are safe and well.
"The children are missing you terribly. If you do not want to come home, just please let us know you are alright."
A reward of £10,000 for information which could lead to her safe return was offered.
Grampian Police were worried it was more than just a routine missing person inquiry, since it was "totally out of character" for her to disappear.
Arlene's anxious relatives were convinced she had been abducted and murdered.
One of Arlene's best friends had no doubt about what had happened to her.
Shortly after the disappearance, Michelle Scott said: "She is dead, somebody took her life, she certainly didn't take her own life.
"If she was still out there she would have got in touch with her mum and her children."
Maintained innocence
Suspicions that Nat Fraser may have known more about the mystery would not die down.
He had previously assaulted his wife.
However, he always protested his innocence about her disappearance.
What had become a massive police inquiry saw detectives charge Mr Fraser and a friend, Hector Dick, with conspiracy to murder.
Then the pair and another of their associates, Glenn Lucas, were subsequently charged with murder.
Searches of Mr Dick's farm and a Moray scrap yard proved fruitless, and hundreds of local lock-ups and garages were examined, but nothing was uncovered.
Flights were even made with special cameras looking for possible graves.
A murder trial began early in January, 2003.
However, in a dramatic twist, Mr Dick and Mr Lucas were freed - leaving Fraser alone in the dock.
Appeal process
Mr Dick then became a witness for the prosecution.
He told the trial that Arlene's husband had hired a hitman to kill her, and then burned her body and ground up the remains.
The jury found Fraser guilty of murder and he was jailed for a minimum of 25 years.
But the case refused to go away. Fraser eventually lodged an appeal, which he lost.
In 2009, judges at the Court of Criminal Appeal refused his bid to appeal to the Privy Council in London.
However, Fraser then turned to Supreme Court judges in London in an attempt to overturn his conviction.
Unanswered question
In May last year, five judges at the Supreme Court ruled that the conviction should be quashed and remitted the case to the Scottish Court of Criminal Appeal.
The Crown Office said it would seek to bring fresh proceedings against Nat Fraser.
The re-trial began in April this year, and another jury has now delivered its verdict.
However, no matter the outcome, relatives knew they would still be left with one unanswered question: What exactly happened to Arlene?
It may well be that they never get the answer they so desperately long for.