Investigation into radioactive contamination concerns at RAF Kinloss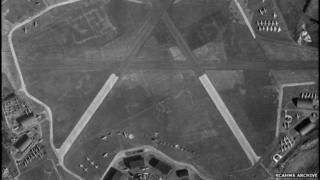 RAF Kinloss in Moray is to be the focus of a new investigation into radioactive contamination, BBC Scotland has learned.
It is linked to the use of "glow in the dark" paint in aircraft from WWII.
The Scottish Environment Protection Agency (Sepa) has already threatened to designate Dalgety Bay in Fife as radioactive contaminated land.
But the site is now just one of nine locations across Scotland which are under scrutiny.
Environmental reports, known as Land Quality Assessments, prepared for the Ministry of Defence (MoD) show the authorities have been aware of "potential human health and environmental risks" at Kinloss since at least 2004.
The documents also suggest that radiological contamination could extend to land which was sold and is no longer part of the base.
It is believed that more than 1,000 aircraft were dismantled at Kinloss after the end of WWII. Instruments coated with "glow in the dark" paint containing radium were burned and buried at the site.
The Scottish government is to write to Defence Secretary Phillip Hammond calling for the "full disclosure" of records relating to radiological contamination at Kinloss.
Richard Lochhead, Secretary for Rural Affairs and the Environment, said: "It's very clear that here we have another case where we need absolute transparency from the MoD.
"We have to understand what the situation is at that site, particularly if it is the case that we're talking about land that has been sold off and is no longer owned by the MoD. People living there, or close by, will want peace of mind."
Fred Dawson, a former head of policy for radiation protection at the MoD, said it was vital that accurate records were kept of land which may be contaminated to allow future users to ensure radioactive material is not disturbed.
He added: "As long as radium remains buried, it's of no great concern. The problem is if it's disturbed. For instance if you're redeveloping a site, and lots of airfields have been redeveloped, you're then putting in foundations.
"It's then that you're bringing this material to the surface and into contact with people. That's really what happened at Dalgety Bay."
Sepa has told BBC Scotland it is to investigate the situation at Kinloss.
Dr Paul Dale, the agency's radioactive substances specialist, said: "It does seem that there's an absence of records about where material was deposited.
"We need to look at that, and we need to look at the assessments that have been done by the MoD and evaluate whether they're appropriate and evaluate whether anything further is needed."
The MoD has not commented on the suggestion that land outside the base may be contaminated.
But it said a review of the quality of the land at RAF Kinloss was already under way, ahead of the transfer of the base to the Army.
A spokesman said: "The MoD is committed to assessing land quality across the entire defence estate. This robust, proactive programme mirrors industry best practice, ensures the land is suitable for use and will not cause harm to people or the environment.
"RAF Kinloss is considered suitable for its current use."