Aberdeen's City Garden Project: Vote to be held on 13 June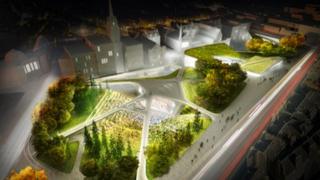 A council vote on whether to proceed with or scrap Aberdeen's Union Terrace Gardens project will take place on 13 June, BBC Scotland can reveal.
A referendum delivered a narrow yes vote in favour of the £140m City Garden Project to transform the gardens.
The Labour group, which forms the largest part of the council coalition, vowed to abandon the project if it got into power in the May elections.
Businessman Sir Ian Wood has put £50m behind the Granite Web design.
He had said that Aberdeen cannot afford not to be ambitious and the chance of the project should not be missed.
The City Garden Project Team welcomed the fact that a date had been announced for the council meeting.
'Extraordinary opportunity'
A spokeswoman added: "The investment in the City Garden Project is a catalyst for the wider City Centre Regeneration Scheme and unlocks the TIF funding to deliver the Aberdeen Art Gallery redevelopment, the St Nicholas House and Upper Denburn redevelopment and improved urban realm and city circle routes.
"The quicker there is clarity on the support for the project, the sooner we can continue to progress the activities that were agreed by Aberdeen City Council on 25 January, and proceed with this vital and extraordinary opportunity to transform the heart of Aberdeen for generations to come."
In a referendum earlier this year, residents were asked if they wanted to retain the gardens or back the City Garden Project redevelopment.
More than 86,000 votes were cast online, by post and by phone.
There were 45,301 votes in favour of the project, with 41,175 people opposed to the plans.
Tax Incremental Financing (TIF) would see a £92m loan being paid back by increased income from business rates.
If it goes ahead, the project could be finished by 2017.